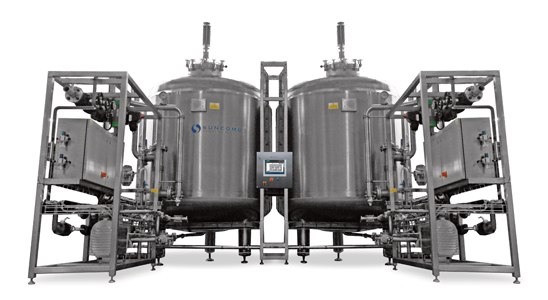 Suncombe MicroEDS ® July 2021
New, low-volume BioWaste Treatment System offers Flexibility and Sustainability.
Suncombe, the cleaning and critical process systems specialists, has announced the global release of the MicroEDS® BioWaste Treatment System for biologically hazardous waste decontamination, typically required in the biopharma sector, laboratories and research institutes. The low-volume system is certified to ASME and ISO/EN standards for treating BSL 1, 2 & 3 waste, using an innovative batch process which allows positive release of all the waste collected.
MicroEDS® is the result of 5 years of development and internal and external testing. It includes a number of major technical advances, including thermal energy regeneration, low energy usage, 100 per cent positive release for treated waste and electronic records generation, says Suncombe.
In line with the Biopharma industry's commitment to address climate change, the new unit delivers 61% energy saving no matter the amount of liquid treated and reduces carbon footprint by up to 1.68 tonnes of CO2 each year, based on average use, says Suncombe.