Cleaning In Place (CIP) refers to the use of a combination of water, chemicals, heat and kinetic energy for a designated time to clean machinery, vessels, pipework or other contaminated equipment, without dismantling plant and without direct operator involvement.
When correctly applied CIP provides several benefits to the user including validated repeatable, cleaning performance, improved health and safety, reduced costs for labour and utility consumption.
The key to successful CIP is the design of automated systems which are effective at cleaning and repeatable in all possible circumstances. As CIP reliability has improved so has its application in increasingly demanding and highly regulated industries where hygiene and avoidance of contamination is paramount, including pharmaceuticals and bio-waste.
Cleaning In Place systems may be fixed in one location or mobile so as to facilitate several points of use. They may be designed as "total loss" systems, where the washing media is used once only before passing to drain or "recovery" systems, which recycle some of the washing media for part of the cycle.
SUNCOMBE & CIP (Clean-In-Place) systems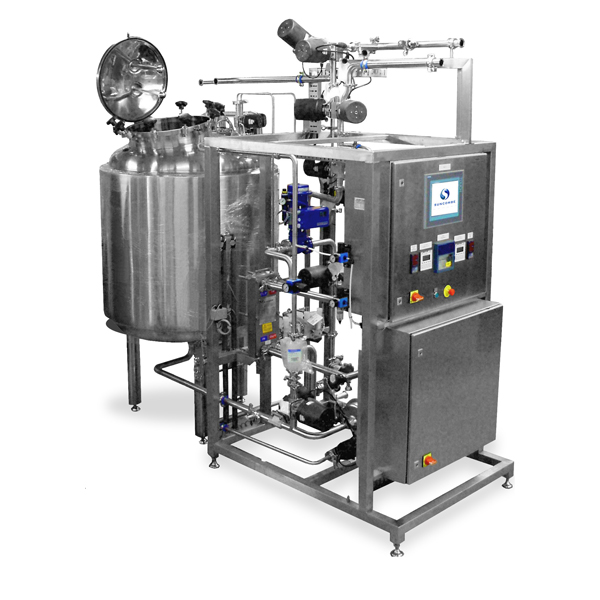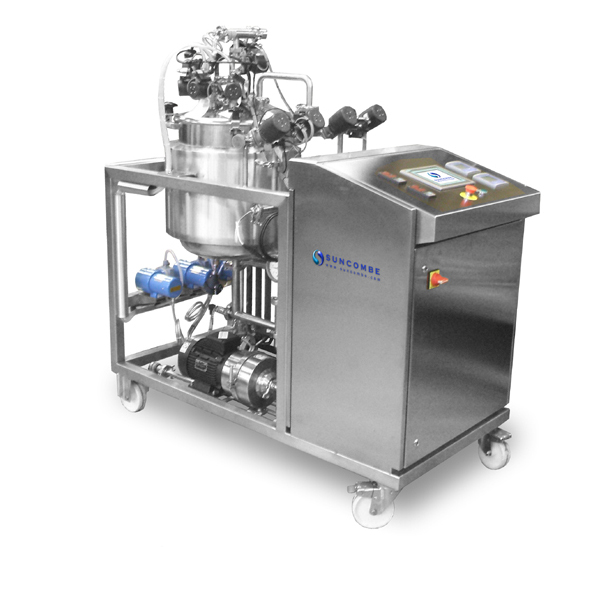 Suncombe pioneered the technology of CIP in the 1950s. Suncombe CIP Systems have been supplied for over 60 years and are used throughout the world in many different industries and sectors.
First fully automated system installed in 1961
1,000s of systems used throughout the world
60+ years of design experience
Developed with major clientele to meet their requirements
Suitable for full validation
Suncombe specialise in addressing the most challenging applications which are often avoided by others. We have the knowledge, technology, products and experience to provide the complete CIP solution, including meeting complex project management, regulatory and validation requirements.
All CIP systems are made to Suncombe's exacting sanitary manufacturing standards.
CIP – Using Energy for Cleaning
Cleaning uses a combination of thermal, chemical and kinetic energy applied for a set time. CIP allows higher thermal, chemical energies to be used for set times, thereby providing guaranteed repeatable cleaning.
Benefits of CIP Systems
The benefits of CIP over other cleaning methods include:
Automated, repeatable, reliable and validatable
Improved Health and Safety
No/minimal equipment dismantling required
Often improves cleaning times and reduces labour costs
More effective using higher temperatures, stronger chemicals
Biotech CIP Targets
including:
Chromatography columns
Transfer lines
Tangential Flow Filtration Units
Centrifuges
Bioreactors
Mobile Vessels
Depth Filters
Hoses and Flexibles
Valve Assemblies
Pharmaceutical CIP Targets
including:
Tanks, Vessels, Intermediate Bulk Containers (IBCs)
Vats
Fermenters
Glovebox Isolators
Mixers Processors
Pipework
Flexibles
Transfer Line Valves
Fluid Bed Dryers
Mills
Coaters
Filters
Pumps
Dryers
Tumblers
Fillers
OEM Equipment
Other CIP Targets
including:
Silos
Incubators
Powder Handling Systems
Ducting
Road Tankers
Flowplates
Pasteuriser
Homogeniser
Separator
Blender
Carbonator
Heaters
Coolers
Valve blocks and manifolds
OEM Equipment
" Suncombe stand-out because they are specialists in the items and elements they produce. If they say they're going to do something, they will do it… In summary, Suncombe are experts in what they do, and they're great people to work with. "
" Suncombe have always been very helpful, particularly during the commissioning phase, and if we have an occasional operation problem, they are very quick to respond. I would certainly recommend them to other professionals. "
" Suncombe's major strength is their understanding our business… They are very, very accommodating. Very knowledgeable. Always there to explain what I wasn't sure of; clarifying things. Great experience. Great people to work with. "
" I would not hesitate to recommend or to use Suncombe again in the future. Throughout this project from design to build and test they delivered at every single milestone in terms of date and budget. Working with Dave, Steve, Mark, and the build team was a joy throughout what was a very technically difficult project to execute. For me Suncombe operate with integrity, with trust and deliver what they promise. "
" They were very clear on what they could, and could not, do. It was very reassuring to discuss the project with people you could feel understood what they're talking about... I think that they are one of the best companies I have ever worked with during my years as an engineer. "
"...the Suncombe engineers were incredibly highly regarded by the client ...they somehow managed to keep to the original time schedule, which was a credit to their staff and their project management skills. They are a really friendly team, and I look forward to working with them again. "
" As well as one project for Roche in Shanghai, we've worked with Suncombe on projects for Novartis in Switzerland, and most recently in Spain. The communication was good. Their documentation was brilliant. …if you asked me whether I'd work with Suncombe again – I'd say 'definitely' "
" We're happy with the machine [the washer], the performance, the build quality, everything. It ticks all the boxes and it does what's required. It's robust and reliable, and just ticks along in the background, which is exactly what we need. "
" I worked closely with Suncombe to develop and manufacture wash booths for several secondary pharmaceutical applications. Manufacturing workmanship has always been superb and occasional quality issues addressed quickly and efficiently. Management commitment and support is second to none. "
" It's definitely the most complex filtration, cleaning and sterilisation process I've worked on. Their technology knowledge was very impressive and their ability to build bespoke units was very impressive too. Also, I think just the friendliness of the team really helped; it was a nice group of guys to work with. "
Speak to a CIP specialist