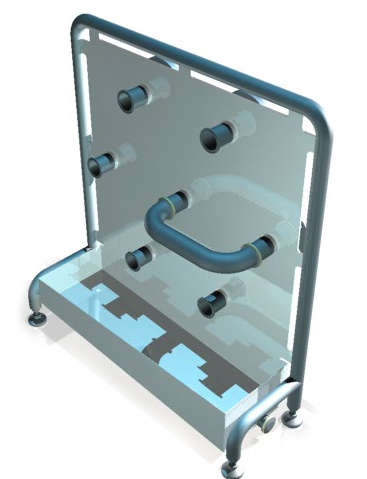 Introduction to Transfer Panels
Process, CIP/SIP and Utility Manual Routing Panels used in Sanitary Applications
The Superior Quality cGMP Transfer Panel, providing the optimum solution to Secure Process Routing
Suncombe is one of the world's first manufacturers of panels, with transfer panels supplied since the 1960's and Utility panels supplied since the 1970's. Transfer Panels, also referred to as 'U Bend Panels', '3D U Bend Panels', 'Flowplate's, 'Splitter Plates' and 'Routing Panels', are defined by ASME BPE as 'a panel to which process and/or utilities are piped that mechanically precludes erroneous cross connections'.
Transfer panels use a single or a number of 'Jumpers' or 'U Bends', to manually inter-connect two or more flow paths, whilst inherently providing an 'air break' and physical separation to all other paths to ensure no possibility of cross contamination.
Panels are available in standard configurations with different number of 'ports' or 'connections' with a single Jumper. Custom designed panels are also available to suit your specific applications and can be developed on a flat plate (2D) or 3D matrix, and can incorporate any number and configuration of ports and any number of jumpers.
Transfer Panels Datasheet
Polished stainless steel 316L panels
GMP designs for free standing or through wall mounting
Standard range and bespoke panels available
Beveled edges for cleanability, aesthetics and health and safety
In house development and design to suit process requirements
ASME BPE or EHEDG sanitary construction
Can include valves, pumps, pipework and instrumentation
Certified surface finishes, material certificates, weld maps and tables
Switches on port connections
Junction Box for electrical connection
Drip and catchment trays
Through wall mount
Engraved port designation and tags
Speak to one of our specialists