First Grade International
Suncombe, the premier UK based, worldwide clean in place system and Hygienic Processing system manufacturer, supplied a custom designed Cleaning In Place System for cleaning a coconut processing facility for First Grade International.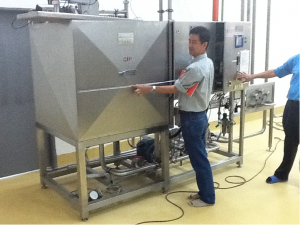 First Grade International Limited, one of the world's largest manufacturers of coconut based products, supply high quality food ingredients for UK based and International food manufacturers, specialising in supplying coconut, pineapple, cocoa, dried fruits and vegetables. Guaranteeing consistency and quality in the foods that they deliver, their logistics, freight and warehousing systems are geared to complete customer service satisfaction.
The original clean in place system installation was made in Birmingham UK, with a subsequent relocation to Sumatra, Indonesia. The system operated in both locations ensuring that the plant was maintained in a clean manner and providing the advantages of a safe, repeatable, lean and cost effective cleaning facility.
The processing plant was then planned to be moved to Malaysia and this is where Tim Withers the General Manager of First Grade International, takes up the story:
"Good on a bad day!"
On many occasions in the past my father used to tell me that "It's easy to be good on a good day but the real art was to be good on a bad day!" I had cause to remember that last week when I got a call from my colleagues in Singapore. A decision had been made some time ago to move some manufacturing plant from our site on the equatorial island of Sumatra to the busy suburbs of Kuala Lumpur, the capitol of Malaysia. Whilst not a long way as the crow flies it's an area of the world with very few roads (particularly on Sumatra) so the machinery had to be loaded into shipping containers, sent by ship to Kuala Lumpur via Singapore for installation at the new plant.
I was told that everything had gone swimmingly until the Indonesian Customs decided we didn't have the right paperwork. This ended with our machinery being impounded for 8 weeks whilst it was all sorted out. So now the extra time we had allowed for the job to be completed had been wasted and our Malaysia engineers were faced with an extremely small time period to get the whole machine re-built and running again to ensure the orders could be delivered to UK customers. We are one of the world's largest manufacturers of coconut based products so if our goods don't get to UK then people have to go without their favourite curry and we can't have that!
The call last week related to the CIP system for our machine for which it appeared the maintenance and operation manuals had been mislaid. Our engineers were desperate to get the system up and running again but all the engineers had were some brief serial numbers to help me track down the original supplier of the machinery. Our good friend "Google" helped me track down "Suncombe" and that got me in contact with Dave Adams. With the little information I had, Dave was able to track the original installation that had taken place in the UK back in the early 2000's. From there he was able to trace all the paperwork and offer us it on as electronic documents which enabled us to get it to the engineers in Malaysia in double quick time. We were certainly having a bad day but Dave turned it into a very good day. His extremely helpful "can do" attitude is a credit to Suncombe. The machine is in full operational order and that is in no small way down to Dave. In a world where the word "service" has been forgotten by many it was a pleasure to deal with a business that appreciates what "service" truly is. Thank you very much.
Tim Withers
General Manager (Head of Sales & Marketing)
First Grade International Limited
Coconut House, 15 Aston Court, George Road,
Bromsgrove, Worcs B60 3AL
Tel 01564 731980  Fax 01564 731999  Mobile 07796 441825
E-mail: twithers@fg-int.co.uk
Website: www.fg-int.co.uk or www.sambugroup.com
---
For further information please contact:
Dave Adams
Director – Suncombe Ltd
Tel: +44 (0) 208 804 5555
E-mail: d.adams@suncombe.com